On the last day of June, I sadly experienced the last of my twenties. As of June 30, my thirties have finally wrapped their demon-like fingers around my youthfulness and begun to strangle the life out of it. Goodbye fast metabolism, hello crossword puzzles. Where's my metamucil?! I NEED TO STAY REGULAR, DAMN IT.
Now that I'm 30 and have experienced about a third of my life, I've taken away some lessons, insights, and observations. So why not share these thoughts about training and life with you lovely people?
Read this straight through, skim it, read what interests you… whatever makes your pretty little heart happy.
Be real. Be honest.
If there's one thing I've come to be highly annoyed by at this point in my life, it's when people beat around the bush, or worse, are just straight up dishonest with you. Everyone appreciates truthful people and in my experience, being transparent in your interactions with others only makes you a more approachable and likable individual.
I had a sales driven fitness job not too long ago, and being ambiguous wasn't necessarily encouraged… but it definitely wasn't frowned upon. This essentially helped manipulate people into spending more money. Of course, this often blew up in your face when people came back spitting venom that they didn't understand the contract, felt taken advantage of, etc. I've learned the same thing often applies to life.
So cut the bullshit and fluff. Be upfront with people without being a huge doucher. You'll be a happier individual.
You do have time to workout.
If I had a dollar for every time someone told me they didn't have time to workout, I could buy a diamond encrusted mini horse. Unless you are a single mother working two jobs, you do have time to workout…your priorities just suck.
Do a time audit and map out every minute of an entire day or week. You'll soon realize that if you cut some of the unnecessary crap out of your day (social media, TV, video games, surfing the internet), you can absolutely carve out 30-90 minutes for a workout a few times a week.
You're not strapped for time. You're just lazy. YEAH I SAID IT, FIGHT ME.
Stop complaining.
I'll come out and say it.
People who complain a lot are annoying. You are an audible burden on the ear canals of innocent bystanders. Complaining adds nothing to your bad situation except negativity and a piss poor outlook. Shift your mindset around the entire situation and try to look at things from a different perspective and you'll find that maybe your situation isn't so terrible.
Stuck in unexpected traffic? Great! Now you can listen to that podcast and learn something.
Boss is a dick? Find ways to be proactive so he has nothing to be a dick about. Become a more efficient and valued employee in the process.
However, there are some people who take complaining to the next level and complain about circumstances that they themselves have created.
"Ugh, I'm so out of shape. I just hate the way I look. Other people have it made… they don't have to work so hard to look the way I want to." Yet this same person goes home, eats a calorie bomb of a burrito and binge watches Stranger Things instead of exercising.
If your problem can be solved by taking action, you don't have a problem.
If you're tired of being fat, stop bitching about it….if you hate your job, stop complaining… if you hate where you live, DO SOMETHING ABOUT IT.
Surround yourself with awesome people.
In the last year, I've had the great pleasure of getting to meet some awesome people who have become clients, friends, and acquaintances. These people are genuine, ambitious, hard working, and just all around amazing individuals. How they conduct themselves personally and professionally has an infectious positivity to it, and quite frankly, it motivates me to get on their level when I'm with them. And for that, I thank these individuals.
You become who you spend the most time with.
If you want to have a better quality of life, look at those whom you respect and admire.
Now go spend more time with those people.
Learn to appreciate the journey, not the destination.
I recently started a business with my partner, Matt, and it has been a tumultuous first few months to put it politely. We've run into problems, encountered unforeseen issues, and experienced some victories. But I've learned to appreciate the ups and downs, learn from them, and hopefully become a better person in the process.
Obviously the end goal of creating a wildly successful business looms in the back of my mind, but the all the fun resides in the journey. Learn to take things one day at a time, soak it in, and learn from your experiences. When you finally reach your summit, the view will be all that much sweeter.
After all, you can't appreciate a sunny day without a little rain cloud every now and then, you know?
You are what you eat.
You've definitely heard this before. But most people don't realize that it is, in fact, 100% true. Everything you put into your body becomes part of you at a cellular level.
There's more to food than just eating to look good or maintaining a certain weight. All the nutrients, or lack of, will in some way be broken down to help carry out the processes your body needs to perform to keep you healthy.
This is why people who endorse eating whatever they want as long as their calories are under control are… well… dumb (did I just offend the IIFYM crowd?) Yes, great, your calories are under control, but those nutrient deficient foods your shoveling down your gullet just for the sake of 'hitting your macros' won't heavily contribute to the smaller, behind the scenes things your body does to help keep you running and feeling good. This is where nutrient powerhouses like veggies, fruits, and animal proteins reign supreme.
So you can eat your pop tarts because you've 'got room' with your macro count, but don't tell me you'll be as healthy as you could be if you ate real, whole foods in it's place.
Make healthy behaviors convenient.
I'm a firm believer that changing your lifestyle lies in changing your habits. Changing habits is hard enough, so you've gotta do everything you can to make these changes convenient. Take eating better for example. This habit change is tough for a ton of people, so you need to do a decent job of putting yourself in situations to succeed. Here are some things you can do to help make healthy eating more convenient.
Don't keep junk in the house. If it's in the house you'll eat it. Right dad? Yeah, talking to YOU Peter Sanchez.
Keep chopped veggies in the fridge at all times. This makes them readily available for stir fry, omelettes, shakes, etc. This takes a majority of the prep and work out of the equation, which only increases your chances of success.
Invest in a healthy meal prep service. Don't wanna cook? Pay someone to do it for you.
Pin pictures of interesting recipes on your fridge to keep you motivated or spark your interest in cooking something on the healthier side.
And so on and so on. But it doesn't have to apply to just food. Keep a change of workout clothes in your car if you're looking to increase your physical activity, don't charge your phone in your bedroom if you want to improve sleep… the list is endless.
Make habit changes convenient and shape your environment to help drive success.
You are what you repeatedly do.
Piggybacking off the last point of habits, your most repeated actions likely define who you are as a person.
Read every day? You're probably interested in self improvement, learning, and trying to become a better person.
Exercise every day? I doubt you're on daily meds to help control various blood markers.
Binge watch TV for hours every day? Something tells me you're not currently writing a book about your booming success at the moment.
If your goals and ambitions don't match your habits, lower your standards or create better habits.
Stop sweating the small shit.
Fun fact, I had a baby in January. And if there's one thing that puts life's important matters into perspective, it's becoming a parent.
Issues that would once throw me off my game don't seem to have the same effect on me anymore because I've learned to take a step back, look at things from a broader perspective, and honestly judge if it should affect my mood.
The one thing I've asked myself numerous times in the last year is "will I really care about this in 24 hours?" More often than not the answer is no, so why the hell should I let it negatively affect my day?
And honestly, when you're running on 4 hours of interrupted sleep because your son is screaming his head off, you really stop caring about small inconveniences. They just don't matter anymore.
Exercise every day.
You are a human. Hopefully. Human bodies are meant for movement. This is why your joints can flex, extend, rotate, abduct, adduct, and go through all sorts of planes of motions. If we were meant to sit on our asses all day, our bodies wouldn't be comprised of hundreds of bones, joints, ligaments, tendons, and muscles capable of propelling us into sprints, jumps, tumbles, bounds, rolls, and shuffles.
And perhaps exercise is a poor choice of words. A better word would be move. You do not need to crush yourself every day when it comes to exercise. Go for a walk, perform a mobility routine, take a hike, ride a bike, play with your kids… it's all movement and it's all good.
Then of course you can always throw in the more traditional exercise like strength training, cardio, spin classes, etc. Whatever floats your boat… but just move!
Something is better than nothing.
Too many people think you need to cripple yourself in order to have something qualify as a "good" workout. If they're not bleeding from the eyeballs and left in a dazed and incoherent state, it wasn't even worth tracking on their Fitbit.
Well let me tell you, newborns will have you feeling like that for basically the first three to six months of their their lives, so you won't exactly be crushing any workouts during that time frame, that's for damn sure. So on days like this, do you just skip it altogether?
No! Adjust so your workout matches how you feel. Only got 4 hours of sleep? Maybe dial back your heavy sets of deadlifts and swap it for a lower intensity metabolic circuit. Or maybe cut down the volume or intensity… or both!
Hell, maybe only do 3 sets and no other exercises. Remember, something is better than nothing. This should be the official mantra for individuals who really struggle with motivation early on.
Maintain your squat.
Gray Cook, one of the smartest experts in the field of fitness, rehab, and exercise once said 'train your deadlift, maintain your squat.' And he's right.
The squat in itself is a fantastic indicator of global mobility as it requires mobility at the ankles, hips, and thoracic spine all while simultaneously needing stability as the knee, hips, and core. This is why it's become a staple in most assessments for fitness professionals.
Individuals who are able to perform a quality squat tend to have less issues overall when compared to someone who lost the ability due to years of a sedentary lifestyle.
And notice how I said 'maintain' your squat… I didn't say you need to train it to break world records. Just make sure you're doing enough to ensure that you can still do one well into your golden years.
Read more, write more, learn more.
I've said this before but it's worth repeating. Reading is something that you should be doing every day as it affords you the opportunity to become a better version of yourself than you were yesterday. Many, if not all, of the most successful entrepreneurs today claim reading is one of the most important reasons as to why they have amassed so much success over their lifetime.
The statement 'learn more, earn more' obviously holds some water as people like Warren Buffet, Mark Cuban, and Elon Musk are all avid readers. And well, these guys all know a thing or two about success.
As far as writing goes, I've personally found that my ability to communicate ideas, theories, and processes improved ten fold when I started writing more. When clients asked a question as to why their shoulder hurt, how carbs impact their training, or any other number of questions, my ability to explain the answer was just… well, smoother.
Writing forces you to organize your thoughts in an easy to comprehend manner and convey them in a way that people can easily understand. This improves communication overall because when you write you're basically just practicing talking. The better you can communicate, your chances of being successful at whatever you wanna do will probably increase.
Do more 'prehab' work.
So what's 'prehab' you ask?
Well, you know how some people go to rehab to fix their rotator cuff or hip because they've run into painful issues that need resolving? This is reactive in nature. A problem in the form of pain arose, so now a trip to the physical therapist is needed to fix it.
'Prehab' is very proactive in nature, meaning you're addressing these 'painful issues' before they ever even become painful issues. It's kinda like changing the oil in your car to prevent any major engine issues from occurring. This same theory applies to your body.
Exactly what you prehab will probably vary from person to person, but its a safe bet to include some form of mobility work for your ankles, hips, and thoracic spine as theses are the areas of your body that need to move well in order for you to stay healthy.
In addition to this, you'll want to perform more stability type work for your hips, core, and shoulder as these areas crave stability.
Prehab work can be done in a routine all in itself, during your warmup, as fillers, or all the above. The great thing about prehab work is that its not very taxing, so you can throw it into your routine literally any way you want.
Cycle your workloads and intensities.
Hey look, I love lifting hard and heavy just as much as the next guy, but doing so 12 months out of the year is a great way to make sure you feel like a steamy turd more often than not.
Heavy and intense lifting is extremely taxing on your central nervous system, so chasing one rep maxes week after week is probably not the smartest thing to do as it will leave you feeling rundown and likely under recovered. A smarter thing to do is to cycle your max strength work with more hypertrophy focused work throughout the year to help keep you feeling fresh, and more importantly, healthy for the long run.
This is especially true for people aged 30 and beyond (sobs heavily into a pillow as I slowly come to terms that I'm talking about myself now) as your body just can't handle what it used to in your teens and twenties.
Recovery timeframes are larger. Your joints need more dedicated TLC. Taking this into account, your programs should probably reflect that if you're looking to continue training well into your 50's, 60's and beyond.
So it's still totally fine and encouraged to train hard and heavy, just don't make it a 24/7/365 type of deal. The same thing applies to running, cycling, or whatever your cup of fitness tea may be.
Nobody f*cking cares.
Stop and think about what makes you insecure fitness wise. Is it your body fat percentage? Your less than stellar max squat? The fact that you're a beginner and don't know anything?
Despite how it makes you feel, trust me when I say… nobody f*cking cares. It might make you insecure and cause you to have negative emotions about yourself, but I promise you other people have totally different views on the matter, or even better, don't really care at all. The thing that you think people are judging you on is likely not even on other peoples radar.
For all the women out there who are hyper concerned about that tiny bit of cellulite on their thigh, trust me, you are still hot. It's a guarantee that men don't notice stuff like that. Catty bitches might, but their opinions mean nothing because they are terrible people.
For all the dudes out there who are concerned that they can only deadlift 275 instead of 300, trust me, nobody cares. Unless you compete, nobody thinks less of you because of it.
And if there actually is someone who judges you or places any sort of negative connotation on the fact that you've got minor issues that make you uneasy about yourself, just sleep easy knowing that people like that were mistake babies who's mothers never loved them 🙂
SLEEP.
Listen up. Assuming you don't have a newborn or young children and you still skip sleep for some bullshit reason like watching reruns or browsing social media, know that I hate you with every fiber of my being. If I could, I would hunt you down and repeatedly punch you right in the kidney.
Sleep makes every aspect of your life better.
Get your 7-9 hours per night. Make it a priority.
Live below your means.
I've heard this one numerous times from people who are way more successful than me… CEO's, entrepreneurs, successful business owners, you name it. When it comes to be financially responsible, one of the best things to do is live below your means.
Just because you have the money to spend, doesn't mean you should. Constantly spending what you have is a fantastic way to ensure you never have any sort of savings or 'cushion' for when unexpected and heavy financials burdens pop up… which they probably will, trust me.
Be careful about spending money on stuff that will just depreciate over time, like cars, clothes and other material things. Chances are you don't need more than half of that stuff, and when you do buy it, it's more because you simply want it.
Don't believe everything you read. Don't read only what you believe.
This one is geared a bit more towards fitness, but it can be applied to every day life as well.
In health and fitness, what's right and wrong is constantly evolving based on advancements in technology and what we continually learn about the amazingly complex machine that is the human body. And there's tons of info available to learn about all this, right at your fingertips, 24/7. But that doesn't necessarily mean you have to believe it all.
Take for example the ketogenic diet. It's been the hottest thing since Hansel when he stole male model of the year from Derek Zoolander.
Tons of people are preaching carbs are bad, keto is amazing, and blah, blah, blah.
However I'd be willing to bet, based on how things usually happen in this industry, that in about 5-10 years the 'keto rage' will die down and people will become much more accepting of carbs based on some bit of research that pops up. The point is just take everything you read with a grain of salt. Things in life are rarely ever concrete fact.
And if you do like keto (ain't nothing wrong with that, baby) but only read about how amazing it is, well you're just doing yourself a huge disservice by becoming a close minded, stubborn old person set in their ways. Read some anti keto articles or maybe read articles about how carbs are hugely beneficial for you. It'll present you with facts so you can make your own decisions and, like the kids say these days, 'stay woke' (SEE I"M STILL HIP, EVEN AT 30).
Obviously this applies to much more than just the keto diet… it's just an example.
To avoid criticism, do nothing. Say nothing. Be nothing.
Wanna avoid people criticizing your work or life? It's easy. Stay at home, do nothing, and say nothing. Go about your 9-5, collect your safe paycheck, and live your vanilla life.
But if you're looking for a life with a bit more meaning, step outside your comfort zone, take risks, and make mistakes. People might criticize you for it, but greatness is rarely achieved without its fair share of cynics, skepticism, and doubters.
If people criticize you and you're offended, you have an ego problem.
Building off the point above, if and when people do throw some criticism your way, don't take it personally. Take a step back, look at things from an unbiased point of view, and see if that criticism really holds any water. While we all like to think that we're awesome and rarely make any mistakes,  it will definitely happen from time to time. We're only human. No one is perfect. Except maybe Keanu Reeves. That is one lovable man, damn it.
Stay humble, take that criticism in stride, and see if you can't come out on the other end a better person.
You're not overtraining, you're under-recovering.
Do you know how hard it is to truly overtrain? Well, if you're a NARP (non athletic regular person), there is a solid chance that you're not overtraining. Even if you're working out 7 days a week busting your ass every single session, you're probably still not experiencing true over training symptoms.
You're more than likely just not recovering like you should be given your workload. Tons of people are gung-ho about training but unknowingly and mistakingly not as gung-ho about sleeping 8+ hours per night or making sure their nutritional habits support their exercise habits. True overtraining is a point that's pretty difficult to get to, but overlooking recovery is quite easy.
So if a friend is telling you that they think they're overtraining, tell them to get 1-2 more hours of sleep every night and eat some more carbs.
Physical transformations require a 'why' to be successful.
Losing substantial weight, finally revealing your six pack, or packing on a decent amount of lean muscle are some of the most common fitness goals that many people can have. But loads of people make the mistake of establishing this 'surface goal' and never digging any deeper.
This is a big mistake.
But if you really wanna see some success, you need a stronger driving force than simply wanting to lose weight or wanting to add muscle. This is where asking WHY can be a game changer.
Why is losing weight (or whatever your goal is) important to you? How will it make you feel once you've accomplished this goal? In what ways will it change your life if you achieve it? How will it negatively impact your life if you don't?
I guarantee that if you do a little soul searching, finding your 'why' will help drive you to success much more effectively than simply saying 'I want to lose weight'.
Do more unilateral strength training.
Unilateral training, meaning one leg or arm at a time, is an amazing way to elevate your training to the next level. Compared to bilateral training, unilateral work requires more contributions from your core to provide stability at your hips and spine, more contributions from accessory or stabilizing muscles, and has a bit more 'functional' carryover to real life.
The movements we perform on a daily basis are very rarely symmetrical in nature, so training this way can be hugely beneficial in helping prevent injuries, help balance out left and right strength discrepancies, and bulletproof your joints to handle life a bit more effectively.
So squat on one leg. Deadlift on one leg. Press with one arm. Row with one arm. Plank with one arm. You see where I'm going with this.
Get a sense of humor.
Maybe it's just me, but I swear I see more and more news headlines about how people are offended by just about anything and everything nowadays. If someone makes a joke or comment that can be misconstrued as even slightly offensive, people lose their minds and label that person a horrible, insensitive, sorry excuse for a human.
Well, how's this for a plot twist? I'm offended that everyone gets so offended. Sack up and learn to take a joke. Not everything is a personal attack on you, your beliefs, and your morals.
A sense of humor goes a long way when it comes to dealing with the crap that life will inevitably throw at you. If you learn to see the lighter side of things, it'll do wonders for your stress levels and overall outlook on life.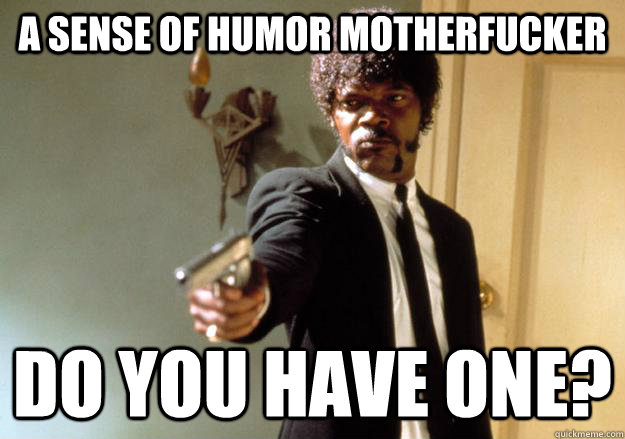 Hopefully you didn't just get offended by that meme 🙂
Always hope for the best. Always prepare for the worst.
It's totally fine to hope for good news all the time. Quite frankly I'd be concerned if you didn't. But it's not totally fine to assume the best is always going to happen. In doing so, you're failing to prepare for the unknowns which may or may not occur. And you know what they say… failing to prepare is preparing to fail.
Hope for sunshine but keep an umbrella in your car. Catch my drift?
Be the same person when people are looking vs. when they're not.
It's easy to be an awesome person when around family, friends, and acquaintances. But don't rip off your good guy mask and turn into a shit head when no one's around.
Do you live your life by the same set of principles, morals, and habits all the time, or do they become a little more lax and laid back when it's just you and no one is around to judge you?
It's easy to do the convenient thing instead of the right thing when no one is looking. Just pretend someone is always looking.
Do facepulls every day.
Facepulls, in my humble opinion, might be one the greatest movements for preserving the health of your shoulders. It combines external rotation, scapular retraction, and horizontal abduction… three movements that directly oppose the detrimental effects that a sedentary lifestyle brings about. And considering almost all of Americans sit for hours on end every single day, these three movements are something your body desperately needs on a more regular basis.
I started doing facepulls almost every day as part of my warmup and my shoulders have never felt better. Coincidence? Maybe… but I doubt it considering I haven't changed much else.
Go for a daily walk.
Walking is by far the most underrated from of exercise on the planet. It's an incredibly easy, low impact, low intensity, form of cardiovascular exercise. It helps stimulate recovery from more intense forms of exercise, burn calories, decrease stress, help fix or prevent low back pain, and serves as the foundation for consistent exercise.
Plus, it's idiot proof. You've been doing this since you were 10 months old. There's no excuse. Get off your ass and go for a 20 minute walk every damn day. if you can't do this, don't even bother starting an exercise program because you'll 100% fail at that. #TheTruthHurts
Start doing more strength work and less stretching for mobility.
I've come to learn that mobility has just as much to do with strength and stability as it does with stretching and being flexible. Endlessly stretching your muscles can be beneficial, but the movement rabbit hole goes much further than this.
Being able to control your joints through large ranges of motion, and not just take them there, is really what mobility is all about.
Why read about it when you can just watch me explain it? HOORAY A VIDEO.
Well, how did you do? Make it through all 30? Only read 8 of them?
It's all good, I still love you. Regardless, hopefully you took something away from this!